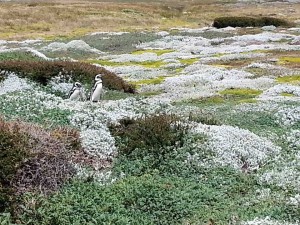 Book a world cruise with Friendly Cruises and find a Chilean Penguin Adventure.  Friendly cruises is honored and grateful to share the story of  MW's Chilean adventure on a South American cruise.  As a cruise industry leader and Elite Cruise Counsellor Scholar ECCS www.FriendlyCruises.com strives to walk down the pier of luxury, adventure and creating lasting cruising memories.
It is said that, "The journey of a thousand miles begins with a single step." ~ Lao Tzu – Come make that step with Friendly Cruises and create your own journey.
The following short story and images of MW's experience shares an adventure of a family of Penguins in Chile in a place called Puntas Arenas located at the southernmost part of Chile.  This is where the earth and sea come alive with thousands of happy feet bobbing up and down to a black and white beat.
To  MW:   Thank you for sharing your story, adventures and photos of your Chilean Penguin Visit in southern Chile while being on a South American cruise.
"To prepare for the Chilean penguin visit at Puntas Arenas, Chile, the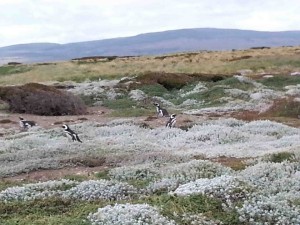 entire ship watched the movie March of The Penguins. I would like to carefully recount for my friends and family the day of our Penguin Visit.
At sunrise the 2000 cruisers began to queue up in single file for their breakfast buffet.
At the same time the male penguins had left their burrows to catch breakfast for their chicks.
Next the 2000 cruisers formed a single line waiting to board the ship tenders to carry them to shore. One by one the cruisers carefully stepped onto the tenders in the gently rolling seas.
The chicks received their breakfast caught by their fathers, as their mothers spread their wings and turned their backs toward the sun warming themselves.
With patience, the cruisers filed off the tenders and waited in line for their buses to be loaded.
The penguins, warmed by the sun, began to tidy their burrows.
Bus after bus carrying the cruisers bounced along the gravel road for forty miles trailing a plume of dust. Finally arriving at the penguin area parking lot, the cruisers lined up to use the "banos" before the two mile walk to the penguins.
The penguins hearing the buses arrival prepared themselves for viewing.
With grit and determination, the cruisers, camera at the ready, walked a straight line along a plank trail toward the penguins.
With the cruisers on hand –SHOWTIME– the penguins ambled to the water's edge and happily splashed in the sea and frolicked on the beach. Two thousand cruisers marched along happily snapping pictures every few feet and then lined up to begin the long march back to the boat."
MW""
Friendly Cruises is committed to helping our clients find journeys which create lasting memories.   To book a South American Cruise or a world cruise contact Lona Lee Thull a Elite Cruise Counsellor Scholar ECCS ~ 480-358-1496 ~ Friendly Cruises helps define pleasure "Pleasure means Business and Business can mean Pleasure"
*Highest certification in the Cruise-Travel industry*