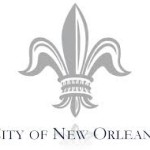 Friendly Cruises honoring veterans posting their friends travel story on Veterans Day.  Friendly Cruises is blessed to have so many friends cruising around the world.  A short story of one of our close friends on Veterans Day while on a cruise.
www.FriendlyCruises.com  is sending this out on Veterans Day, and to all our friends who have served:  "Thank You".
We just spent (5) days in New Orleans and now are on a cruise in the Caribbean.  (Glad to have spell-check or I would have never spelled Caribbean correctly.)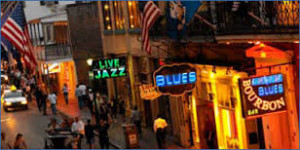 It was our first time in "Nawlins" (local pronunciation) and we saw it all, including Bourbon Street at 11pm on a Friday night.
We have been in Cabo, Cancun, Vegas, and many other party towns on a weekend night and nothing compares to Bourbon Street in New Orleans.
First the good – great music filled the street from the over-stuffed nightclubs and bars.
Now the bad – everyone on the street had a drink in their hand which they happily spilled on you as everyone jostled, inching along the overcrowded street in all directions.

Then, cheerful men on balconies pelted the crowd with beads hoping that women would lift their tops in the "Nawlins" tradition.  The crowd was so tightly packed that I do not think a women could raise her hands, let alone her top.
After the walk, Kerry said she she needed a (30) minute hot shower.  I said they should issue hazmat suits for everyone over 50 years old as you turn onto the street.  Best to leave this street to the youth on weekends. But we still enjoyed the different experience.
Earlier in the week we took a day tour of the entire New Orleans area, from the beautiful homes near the colleges— Tulane is one— to the Katrina 9th Ward.
According to our guide, in the Katrina flooded areas, Brad Pitt's charity and other charities (I know the Mindel family and others came down to rebuild homes) built more houses than our Federal Government.  Much of the area is still vacant lots, but many of the new homes have solar panels provided by Pitt's charity and the area looks like a better place to live.
Guess what the Number (1) visited attraction is in New Orleans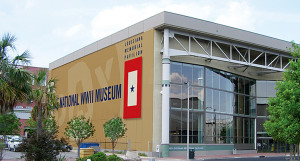 The WWII museum nationalww2museum.org Bet you didn't guess it. We went to a Tom Hanks 4D movie and then returned another night to their playhouse to see "The Rat Pack", you know, with Sinatra, Martin, and Davis which was very good.
We also saw "NCIS New Orleans" filming a Christmas episode in the museum's main hall.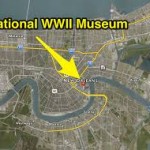 What I liked best was that at each event, they honored the WWII vets that were in attendance. Most of these WWII vets are either in their 90's or close to it.  It is touching to see them stand tall or raise their head high from their wheel chairs, if they can no longer stand, to accept the applause and appreciation from the rest of us.
A shout out to my Dad, George, who is still going strong and served in WWII. By the way, he mowed his yard yesterday.  Love you, Dad.
MW
For more information contact Lona Lee Thull a Elite Cruise Counsellor Scholar ECCS  ~ 480-358-1496 ~ Friendly Cruises helps define pleasure "Pleasure means Business and Business can mean Pleasure"
*Highest certification in the Cruise-Travel industry*