Let your stresses go at sea on your next vacation.  Are you ready for a spa cruise? Cruise lines are offering new spa services and treatments as a result of many new cruising trends related to health, centered wellness and spa services creating the cruise ship into a "virtual spa experience".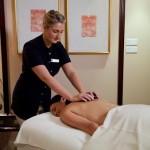 As you research your next vacation or plan your adventure, you can look forward to lying down on a massage table with a soft silky sheet while hot stones soak into the muscles of your arms, legs, back and neck.  If this isn't enough, continue to relax and release your stresses on a warm tile lounger, sauna and steam room.
A spa cruise offers a wide variety of health related services catering to people who want to cruise in style and stay healthy. Other services can include health food, salon services, fitness and even personal trainers.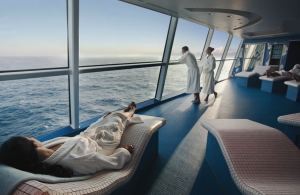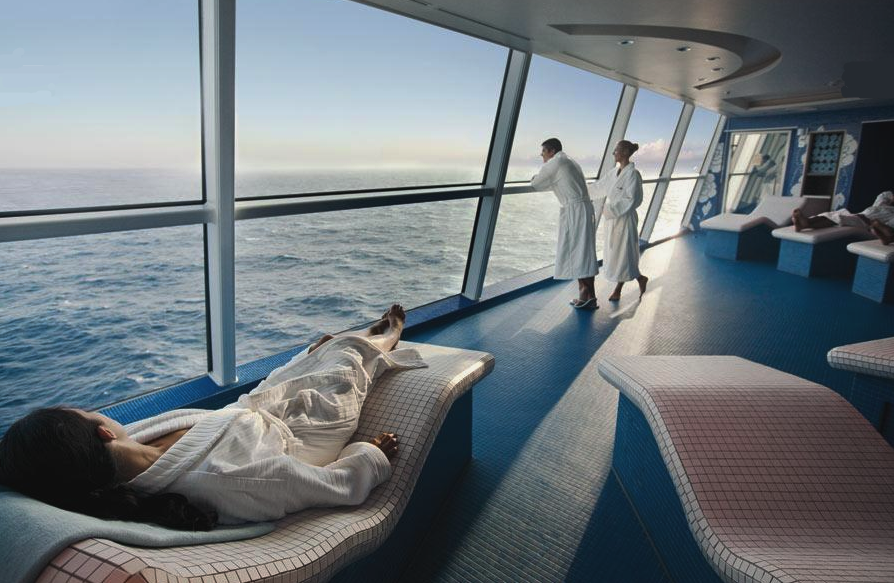 It is time to unwind, sink into these words and let your imagination take you on your journey's next Port of Call.
Relaxation is a key component to a happier and healthier lifestyle.
As Paulo Coelho wrote:  "It's a good idea always to do something relaxing prior to making an important decision in your life."
Learn more about each of these services and amenities by connecting with an Elite Cruise Counsellor Scholar before booking your next vacation.
The following spa services are some of the latest onboard amenities on many cruise lines: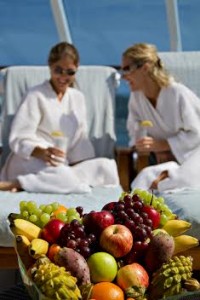 Spa Services & Treatments
Massage
Body treatments
Two-by-two massage
Optional massage enhancements
Treatment Journeys
Healthy Feet
Thermal therapies
Organic body wraps
Conditioning body scrubs
Medi Peel facials
Optional facial enhancements
Sauna
Steam room
Therapeutic pools
Cruises which offer spa services and treatments typically offer a number of other health, wellness and fitness services.  For example: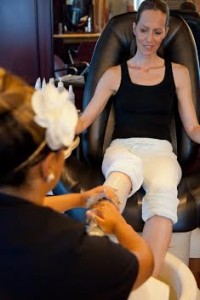 Health & wellness related services
Exercise & Wellness
Treatments from the East
Acupuncture
Salon Services
Hair Services
Manicures
Pedicures
Beauty Essentials
There are a number of spa amenities and services to suit a number of different needs.  Below is a brief description of unique services from a number of different cruise lines.
Other spa amenities and services offered on a number of cruise lines include:
Hydrotherapy pools
Therapeutic air jets
Turkish-style steam bath
Therapeutic massages using clay, mud or salt
Herbal-infused treatments
There are a many cruise themes, cruise lines and Ports of Call which offer healthy services to spoil and pamper you and your family when you book a cruise.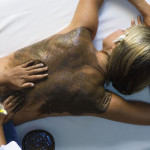 Relax and let your stress fade away into the sunset on your next cruise by contacting an Elite Cruise Counsellor Scholar from www.FriendlyCruises.com
To learn more about a spa theme cruise please fill out the contact form below and make sure you include the types of spa services which interest you, when you are planning your next vacation and your preferred destination.  Contact Lona Lee Thull 480-358-1496